May Labor Report Showed a Rise in Unemployment, with Jobs Growth and Continued Slowing of Wage Increases
Key Takeaways1
Headline unemployment number rose from 3.4% to 3.7% and the establishment survey showed 339,000 jobs added in May, a very strong showing.
Surprisingly, adjusting household employment to the payroll concepts provided 394,000 jobs in May, greater than the 339,000 jobs in the establishment survey.
The difference between the payroll and broader household survey is attributable to a fall in unincorporated self-employed workers, which the establishment survey would not pick up (see Chart I).
The unexpected significant decline in self-employment created the sharp increase in unemployment to 3.7% (see Chart II).
Wage growth continues to follow a downward trajectory, especially in core non-housing services sector (see Chart III).
Employment growth was especially strong in sectors that have been sluggish to bounce back from the pandemic, such as education, health services and government.
Chart I
Chart II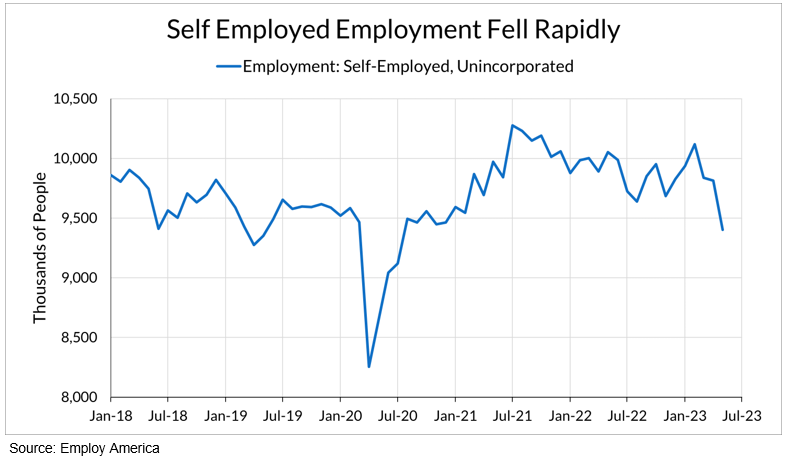 Chart III
Slowing Inflation Shown in NY Fed's MCT Measure2
The MCT declined to 3.4 percent in April from 3.6 percent in March In the May employment report, the weakest component in May was wage growth in the service sector excluding housing, supporting deceleration in core PCE Services Ex Housing. By comparison, the standard 12-month core PCE measure inched up to 4.7% in April following monthly reading of 0.4% in April and 0.3% in March.2
Chart IV
Additionally, the May ISM prices paid component fell to 56, the lowest in 2 years (since May 2020 – see Chart V). This is a collapse in pricing on services, leading Core CPI by approximately 6 months and pointing to Core CPI failing to 3% before year-end 2023.3
Chart V
1 Labor Market Recap May 2023: Renormalization, Employ America, June 2, 2023
2 NY Fed's MCT Measure Shows Sharply Slowing Inflation, Market News, June 2, 2023
3 Tom Lee's FSInsight, newsletter June 7, 2023
To view all our products and services please visit our website www.idcfp.com. For more information, please contact us at 800-525-5457 or info@idcfp.com.
John E Rickmeier, CFA
President
jer@idcfp.com
Robin Rickmeier
Marketing Director