Employ America's May Core-Cast* Post-PPI: Confirming the Inflection Point
*Core-Cast is Employ America's unique model to track the Fed's preferred inflation gauges, Core PCE and Core PCE Services Ex Housing.
Monthly "Core Services Ex Housing" Inflation Should Align with Fed's 2% Goals in May
Most of Personal Consumption Expenditures (PCE) inflation gauges are sourced from Consumer Price Index (CPI) data, but the relevance of Producer Price Index (PPI) data is increasing.1

Table I
Chart I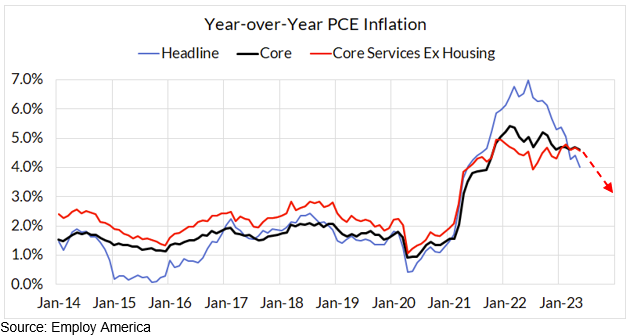 Unlike the disappointment of April PPI, the May PPI release confirms the encouraging details in the corresponding CPI release: Monthly Core Services Ex Housing PCE is likely to be close or even below what's consistent with the Fed's 2% Headline and Core PCE inflation goal.1 The decline in monthly increases reduces core PCE and Core Services Ex Housing inflation to 3% by January 2024 (see Chart I).
Forecast for Core CPI Dropping to 3%
Core CPI year-over-year growth was 5.3% in May 2023. Plotting the ISM Services Prices Paid 6 months forward forecasts year-over-year core CPI declining to 3% by January 2024.
Chart II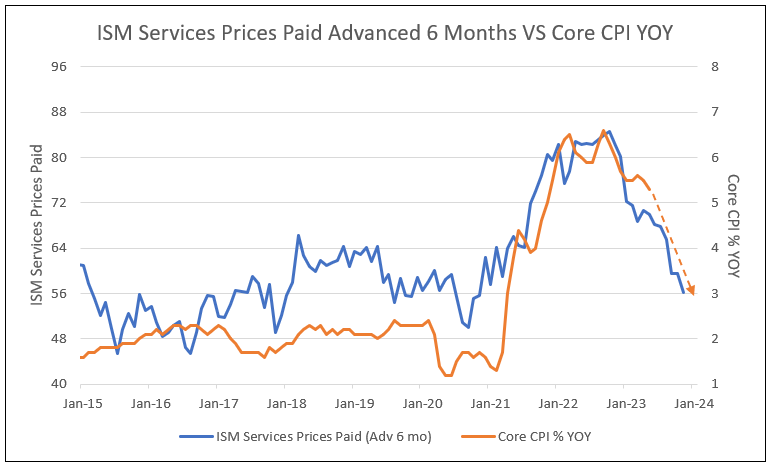 1 May Core-Cast PPI: Confirming the Inflection Point, Employ America, June 14, 2023
To view all our products and services please visit our website www.idcfp.com. For more information, please contact us at 800-525-5457 or info@idcfp.com.
John E Rickmeier, CFA
President
jer@idcfp.com
Robin Rickmeier
Marketing Director